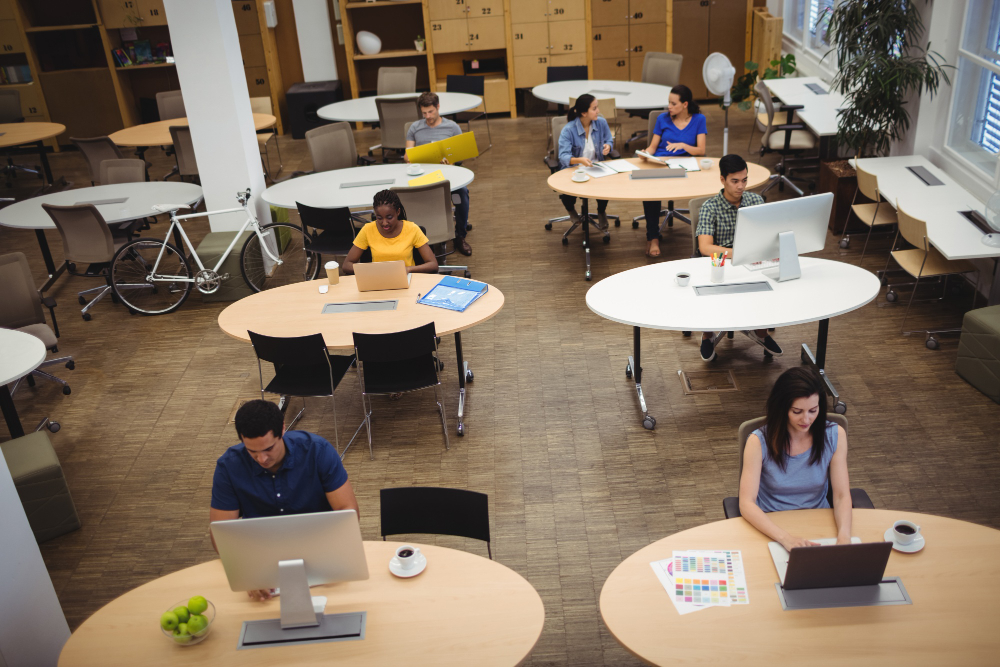 Pune, a vibrant and rapidly growing city in Maharashtra, has become a hotbed for entrepreneurship, innovation, and collaboration. As the demand for flexible workspaces continues to rise, several coworking spaces have emerged as dynamic hubs for professionals, startups, and freelancers alike. In this article, we'll explore some of the best coworking spaces in Pune that are redefining the way people work and fostering a culture of innovation.
91springboard
Nestled in the heart of Pune, 91springboard is a prominent name in the coworking industry. Their Kalyani Nagar, Yerwada, and Baner coworking spaces offer a diverse range of amenities and flexible workspace options. The spaces are thoughtfully designed to cater to the needs of both individual professionals and growing businesses.
Key Features:
High-speed internet connectivity
Spacious and well-furnished workstations
Conference rooms for meetings and presentations
A vibrant community of entrepreneurs and professionals
Regular networking events and workshops
Regus
Regus is a global leader in the coworking space industry and has a strong presence in Pune. Their locations in areas like Kharadi, Hinjewadi, and Shivajinagar offer fully equipped workspaces with a focus on flexibility and convenience. Regus spaces are designed to cater to businesses of all sizes, from freelancers to large corporations.
Key Features:
Professional reception and administrative support
A network of global locations for seamless business expansion
Modern and ergonomic office furniture
Customised office solutions, including virtual offices and meeting rooms
The Daftar
The Daftar is a coworking space located in Baner, Pune, known for its creativity and innovation-centric atmosphere. It offers an alternative to traditional office setups, fostering an environment where individuals and teams can thrive. The Daftar stands out for its focus on design aesthetics and community-building.
Key Features:
Aesthetic and ergonomic workspaces
Dedicated areas for brainstorming and collaboration
Regular events and workshops to facilitate networking
A curated community of like-minded professionals
AWFIS
AWFIS, a popular coworking space provider in India, has a strong presence in Pune. Their coworking space in Viman Nagar offers contemporary workspaces and flexible membership plans. AWFIS is renowned for its tech-enabled infrastructure and commitment to fostering a productive work environment.
Key Features:
Secure and high-speed internet connectivity
Meeting and conference rooms with audio-visual equipment
Pantry and cafeteria services
Flexibility in choosing workspace options
Vatika Business Center
Located in Yerawada, The Mesh is another coworking space that has gained popularity among Pune's professionals and startups. With its unique design and emphasis on collaboration, Vatika Business Centre offers a refreshing and inspiring experience.
Key Features:
Open and private workspaces
A cosy lounge area for relaxation
Regular events and networking opportunities
Business support services, including printing and scanning facilities
The WorkLab
The WorkLab, situated in the bustling Baner area of Pune, is a coworking space that caters to diverse professionals, including freelancers, startups, and established businesses. This space is known for its vibrant ambiance and an array of amenities designed to enhance productivity.
Key Features:
High-speed internet and uninterrupted power supply
Ergonomically designed workstations
Meeting rooms and event spaces
A supportive community of entrepreneurs and professionals
Pune's coworking spaces have become more than just shared offices; they are hubs of innovation, collaboration, and networking. Each of the top coworking spaces in Pune mentioned in this article offers a unique blend of amenities, flexible plans, and a supportive community that fosters professional growth and creativity.
Whether you're a freelancer seeking an inspiring workspace or a startup looking to scale your operations, Pune's coworking spaces provide the ideal environment to meet your needs. As Pune's entrepreneurial ecosystem continues to thrive, these coworking spaces are sure to play a pivotal role in shaping the future of work in the city. So, if you're in Pune and looking for a workspace that combines comfort, connectivity, and community, you won't be disappointed by the diverse options available in this dynamic city.