The Eureka Ergonomic Precision L Shaped Gaming Desk With Monitor Shelf Is The Ultimate Gamer's Companion
Gamers that truly care about their performance on and off the server know the value of good peripherals and the value of picking the right components. More and more, these shrewd consumer decisions are now encompassing the best chairs and gaming desks of note.
With Eureka Ergonomic; you can be certain that the best and most well-designed furnishings are available to purchase.
In this post, we're going to discuss the Eureka Ergonomic Precision L-Shaped Gaming desk, and explain why we believe it to be the ultimate gamer's companion. Click here for others.
Why do you need a specialized gaming desk?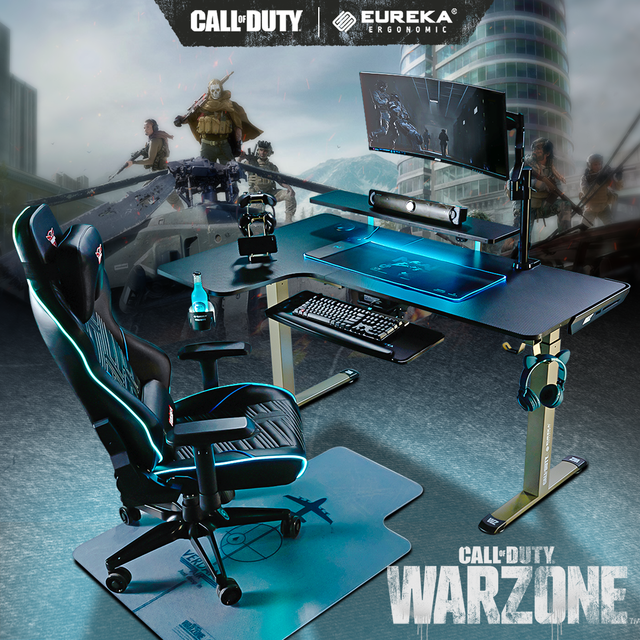 It may seem as though one desk is very much like another when it comes down to it, but that's not the case at all, and robs the discussion of very necessary nuance.
Sure, a kitchen table or a simple desk constructed out of pine can perform the task you require of it, but properly-designed desks offer perfect form-fitted ergonomics, a range of additional features in comfort and styling; as well as offering you more utility through and through.
For instance, even the support structures needed to house multiple monitors, computing rigs, and accessories are found as well-integrated necessities in your gaming desk.
Introducing the Eureka Ergonomic Precision desk.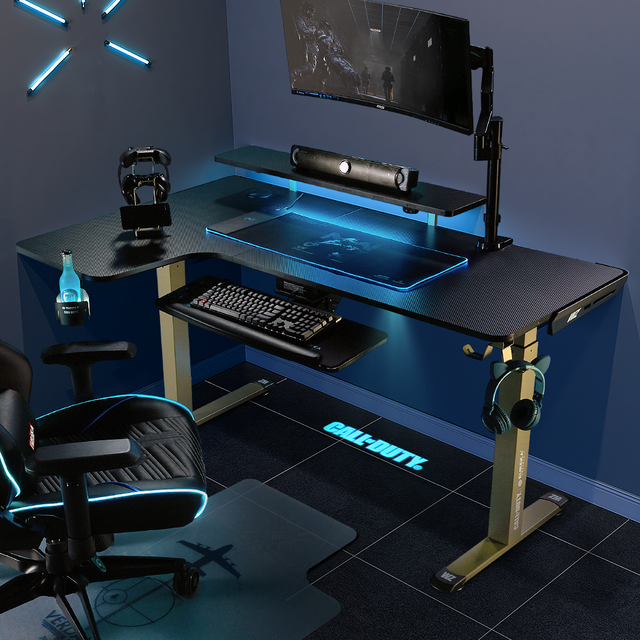 The Eureka Ergonomic Precision Desk is an L-shaped desk that can fit perfectly against a wall or in the corner of an office space or gaming room. With an adjustable keyboard tray as an added option and magnet cable management ties, it provides all of the basic needs that any gamer may need.
Yet as this desk is an officially licensed Call of Duty® unit, you can be certain that it's where the added features are where the desk shines. With included headphones hooks, an ergonomic monitor stand a large surface area; any gamer will be able to store his or her accessories, figurines, devices, and peripherals to make their gaming experience much more comfortable.
What makes this the ultimate gaming desk?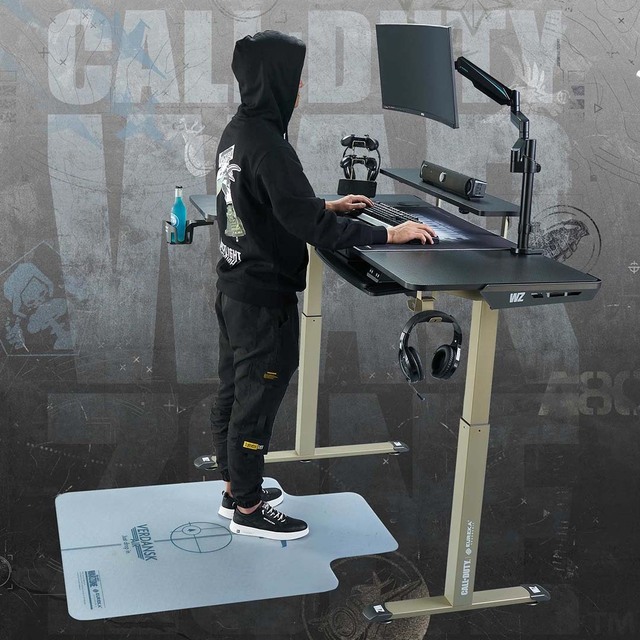 The included Warzone gaming mouse pad is the perfect addition to pulling of quickshots and no-scopes in Verdansk, or when needing to return from the Gulag to pull that last-minute clutch.
In addition to this fantastic branding comes the controllable RGB lighting upon the surface pad from the monitor stand, allowing immediate selections of colors you can change on the fly. With a metallic side cable management system you can easily route cables from your monster rig and leave the space looking neat and comfortable.
Furthermore, the included 4 adjustable leveling feet means that finding the perfect stability for your desk, even in rooms with uneven floor surfaces, is quick and easy to achieve.
Perhaps the most amazing feature of this wonderful desk, however, is its height adjustability. Not only are these replete with two programmable height presents, but offers two USB charging points too. This means you never have to wait overnight to charge your controller before you can use it comfortably again.
The latter feature of standing height adjustability means that standing up, especially while working remotely or simply wishing to get a break from sitting all afternoon is more than ebay to do. As such, this desk is not only ideal for gamers, but anyone who wants to take care of their health more readily during those long and tiresome gaming sessions.
Why are standing desks so popular?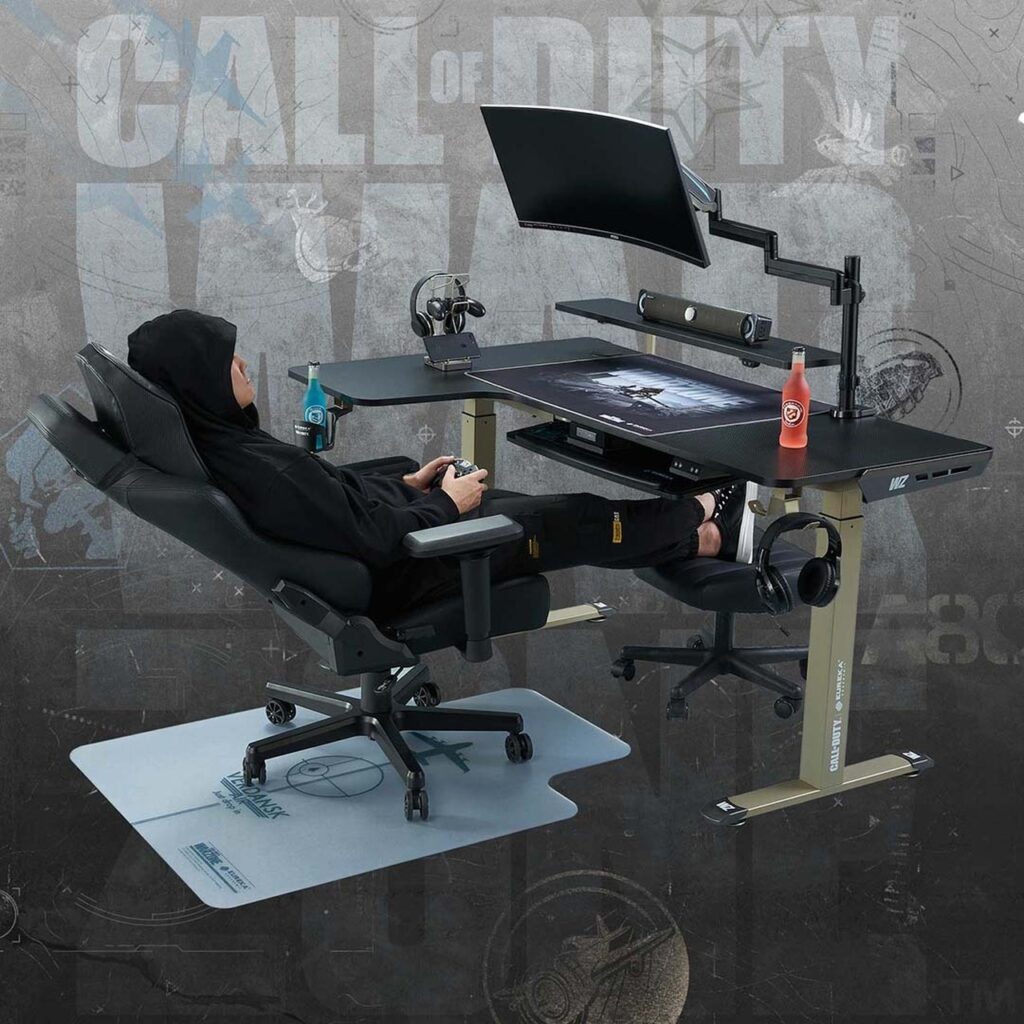 In recent years, standing desks have defined themselves as a must-buy home furnishing. As more and more people move towards working-from-home alternatives, we understand that sitting down at our desk for many hours a day, for both professional and recreational purposes, is more commonplace.
Standing desks have met this need by providing people the chance to continue working while standing, helping to undo the long-term damage that may come with sitting, while also ensuring every component remains secure and in place upon the desk itself.
This way, sedentary office life became that little bit healthier to deal with. It's why so many executive offices are starting to integrate these provisions as standard. Eureka Ergonomic's conviction is that gamers deserve this kind of utility and comfort also; heralding the design of such a comprehensively-curated gaming desk.
Durability as standard.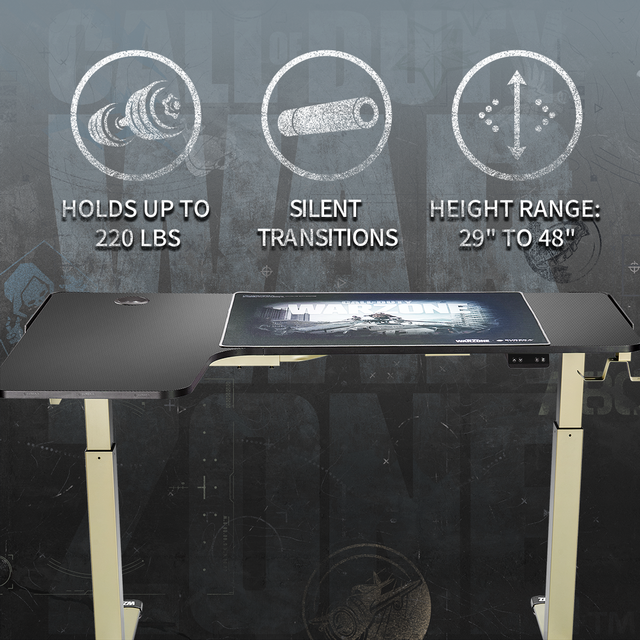 Sure, this desk has been designed with comfort and utility in mind, but also durability is worth a mention here, too. The desk is fully scratch-resistant and waterproof, meaning with good care and fair use it should last years upon years in your home.
Its easy construction means that transporting it when necessary is also reasonably straightforward to keep up with. Not only this, but the large surface area and longevity provided have made this desk a favorite of esports professionals; which is why the model holds its officially licensed Call of Duty® status.
Despite the desk's official branding and RGB options, it's also important to note this desk can serve as a well-formatted, sleek-looking and fully-professional unit should you wish to utilize it for more pedestrian purposes, like taking your video conferencing calls from home or running your home business from your office. That's what makes the Precision L-Shaped desk so great, it performs exactly how you need to, no matter if you're dropping into the fierce crossfire of the Verdansk map or managing your monthly budget at different hours of the day.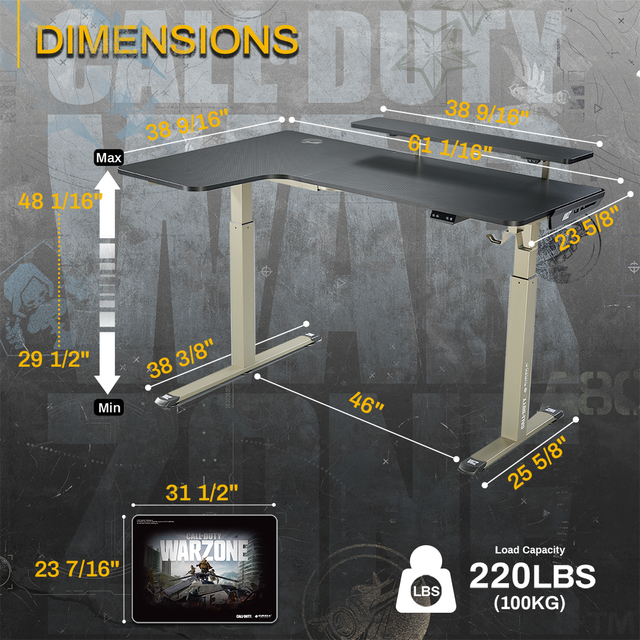 Contact Eureka Ergonomic today!
Eureka Ergonomic prides itself on developing the most well-designed gaming furnishings; designed by gamers and for gamers. They truly bring world-class conceptual design to raw practical ergonomic wisdom, creating products that not only make your gaming experience more comfortable to deal with, but sustainable in the long term too.
Not only do they offer a range of wonderful desks with various configuration options, but also offer a range of chairs for comfortable seating during hours of high-impact gameplay. Why not browse their desk and chair ranges or contact support today? Your best gaming years are ahead of you, you can believe that. https://eurekaergonomic.com/l-shaped-desks