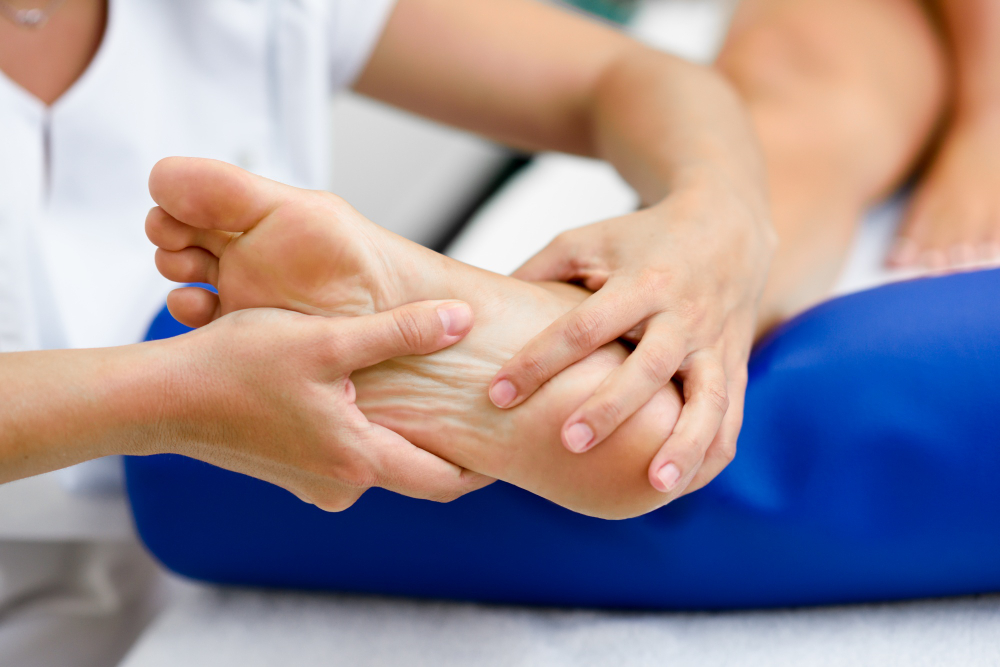 You can finally sit back and relax! Stop searching for a 'Mobile Podiatrist near me' or a 'Mobile Chiropodist near me', get in touch today. Our amazing mobile Podiatrist service is here to save the day. That's right, no more worrying about how you'll get to your appointment or stressing over mobility challenges. With our exceptional Cardiff Podiatrist, those days are long gone! We're here to bring expert, trusted, 5 star Chiropodist care right to your doorstep in the Cardiff area within a 8 miles of our clinic address CF5 3HR. Available every Wednesday and Friday, spaces fill up fast so be sure to book your appointment early to avoid disappointment. This is a vital service we provide to those in need and due to limited spaces we reserve appointments strictly for those who are not able to leave their home.
​
​Just imagine it: sitting back in your cozy living room, sipping on a cup of tea while our friendly and professional mobile Podiatrist takes care of your feet. Offering limited appointments every Wednesday, we encourage you to book your session as soon as possible. Our highly skilled HCPC Mobile Podiatrist will ensure your feet feel rejuvenated and healthier than ever before.
Don't miss out on this fantastic opportunity to experience the ultimate comfort and convenience that comes with our mobile Podiatry services. Remember, happy feet make for a happy life! So don't hesitate – give us a call today and secure your appointment with our outstanding mobile Podiatrist in Cardiff. Home visits can be booked online by selecting Chelsea as your Podiatrist, or by calling our friendly reception 7 days a week. Alternatively send us your enquiry by clicking the 'Book Appointment' button below. You'll be walking on clouds in no time!

WHAT IS INCLUDED IN YOUR MOBILE PODIATRY AND MOBILE CHIROPODY IN CARDIFF
Your HCPC Mobile Podiatrist will arrive will all the equipment necessary to assess and treat your feet in the comfort of your home. The following treatments are available with Mobile Chiropody:
​
Toe Nail Cutting
Assessment of your feet
Dry skin removal
Corn removal
Help with hard skin and cracks
General nail care
Appointments for our home visits in Cardiff are usually no more than 30 minutes per person, this depending on the service required after the Mobile Podiatrist Louise and/ or Chelsea has assessed your feet. If you have any concerns which we are unable treat in your home we will advise you during the appointment.
All our Podiatrists are experienced and highly qualified, you will be in safe and trusted hands.
​
Please be aware on occasions you may not have the same Podiatrist every time, we understand some clients feel comfortable with the same Mobile Chiropodist each time, however, due to our clinic being extremely busy our Podiatrists may be needed in the clinic and we will always provide a Podiatrist from our Private Foot Clinic in Cardiff who is highly skilled and will make sure your feet are their priority during your appointment. We will inform you with plenty of notice if this is the case.