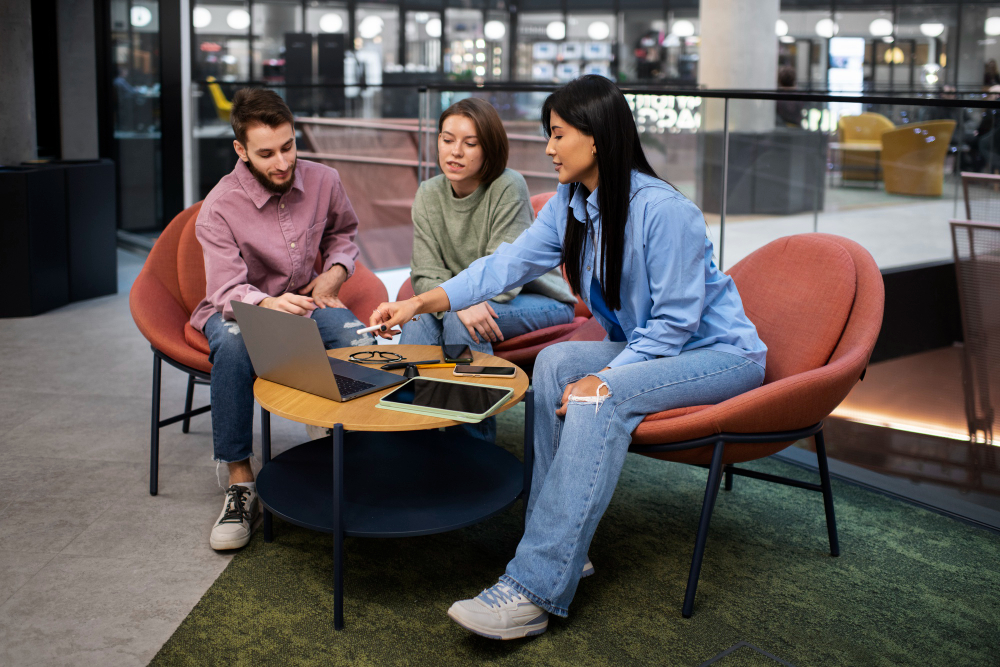 Amidst the ceaseless energy of Mumbai, Lower Parel and the Bandra Kurla Complex (BKC) have emerged as epicentres of business and innovation. This article takes you on a journey to discover the best coworking spaces in Mumbai, focusing on Lower Parel and BKC, where professionals can find dynamic and inspiring workspaces.
Mumbai's status as a financial and entertainment hub has attracted professionals from various industries. To cater to the diverse needs of this workforce, several coworking spaces have established themselves as leaders in the city. Some of the best coworking spaces in Mumbai, particularly in Lower Parel and BKC, include:
WeWork BKC: WeWork, a global coworking giant, offers contemporary workspaces designed to inspire creativity and collaboration. WeWork's BKC location embodies these principles, providing modern amenities and networking opportunities.
Regus BKC: Regus is a well-known name in the coworking industry, offering premium facilities and flexible work solutions. Regus BKC caters to professionals looking for a prestigious business address and a sophisticated workspace.
Awfis Lower Parel: Awfis has a significant presence in Mumbai, and its Lower Parel location is known for its secure high-speed internet, meeting rooms, and well-equipped workspaces.
Coworking in BKC: The Heart of Mumbai's Business District
The Bandra Kurla Complex (BKC) is synonymous with business and innovation in Mumbai. This upscale neighbourhood hosts several coworking spaces that cater to professionals seeking a dynamic and creative workspace.
Other popular Coworking Spaces in BKC:
TEC Bandra Kurla Complex, Tribe Spaces BKC, Vatika Business Centre BKC, and 91springboard BKC.
Coworking in Lower Parel: The Intersection of Creativity
Lower Parel, known for its thriving arts and culture scene, has also emerged as a business district that attracts professionals from various sectors. Coworking spaces in Lower Parel offer a unique blend of creativity and innovation.
Other popular Coworking Spaces in Lower Parel:
Dextrus Lower Parel, YesssWorks Lower Parel, Workloft Lower Parel, and Garage Lower Parel.
Why Choose Coworking in BKC and Lower Parel?
Networking Opportunities: Coworking spaces in BKC and Lower Parel provide numerous networking opportunities. These environments encourage collaboration, idea sharing, and business growth.
Flexibility: Coworking spaces offer flexible membership options, allowing businesses to adapt to changing work requirements without the constraints of long-term leases.
Access to Amenities: These coworking spaces provide modern amenities, including high-speed internet, meeting rooms, and shared common areas, enhancing the overall working experience.
Strategic Location: BKC and Lower Parel are well-connected areas in Mumbai, making them ideal for professionals who value connectivity and convenience.
Mumbai's Lower Parel and BKC neighbourhoods have embraced the coworking revolution, providing professionals and businesses with access to some of the best coworking spaces in the city. WeWork, Regus, and Awfis have established a strong presence in these areas, offering contemporary workspaces, networking opportunities, and a vibrant work environment.
As Mumbai continues to be a hub of innovation and business, coworking spaces in Lower Parel and BKC play a vital role in fostering collaboration and creativity. Whether you are an entrepreneur, freelancer, or established business, the coworking spaces in these neighbourhoods offer a dynamic and flexible solution to meet your professional needs. Elevate your workspace in Lower Parel and BKC, and join the thriving community of professionals shaping the future of Mumbai's business landscape.